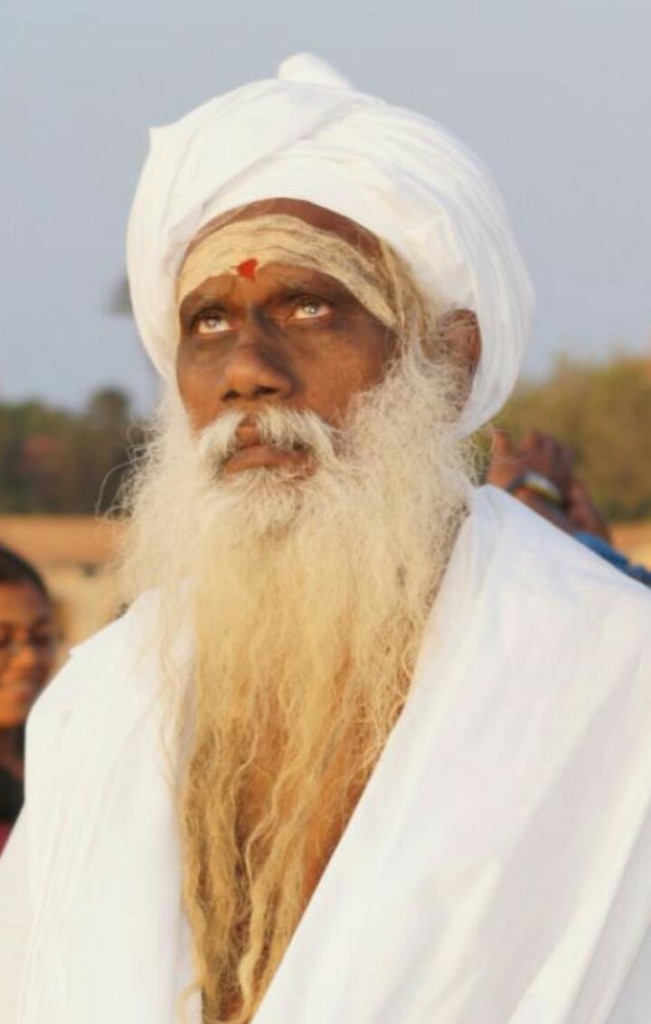 About
Annai Siddha Rajakumar Guruji
Siddha Rajakumar was a young South Indian film director when he first met his guru, Siddha Kagapujanda, in 1981. For more than six years after surrendering himself to the guru, Rajakumar dedicated his service to him and the to the activities of his ashram in Perambalur, Tamil Nadu. During this time, armed with the knowledge that eradicating hunger and disease in mankind is both a service to the Lord and a mighty penance, Siddha Kagapujanda transformed Siddha Rajakumar into a redeemer of the Age of Vice and escorted his beloved disciple to all the caves and shrines of the Western Ghats, a mountain range of Southern India throughout which siddhas meditate in the astral form.
With such access to these caves, hills, and jungles, Siddha Rajakumar has gained an unparalleled knowledge of their intricacies that no other living person can contend with. Rigorously trained in spiritual practices, Rajkumar was blessed with the yogic powers of the Siddha when he was only twenty-four.
As per his Guru Siddha Kagapujanda, philanthropy is the only tool to cross the ocean of human life. Therefore, Siddha Rajakumar tirelessly promotes the significance of charity to the people he meets. His only goal is to instill the values of charity.
In this present age, where spirituality is abused and has been transformed into a business, Siddha Rajakumar remains true to his purpose.  Abiding by his guru's principle that "relieving hunger and disease is divine service," he relentlessly hunts for herbs in the hills and prepares and distributes lifesaving – medicines at no cost. The most popular ones are the Sanjeevi oil, made of 108 herbs, and the herbal tooth powder. He gives these products to philanthropists with the blessing to kindle compassion in their hearts, empowering them to offer food and robes to the needy so that they may earn the grace of siddhas. He has fed and provided for millions of needy people in South India. He has also renovated and performed the consecration ceremony for many Siddha/Siva temples. He has performed more than 10,000 Siddha yagna/fire pooja in many sacred hills where siddhas live in their astral bodies, specifically at Pothigai Hill, Nambi Hill, Kolli Hill, Suruli Hill, Aanai Hill, Theertha Hill, Kalahasti Hill, Javvadhu Hill, and Moogambigai Hill.
In this lifetime, Rajakumar Siddha has met and served more than 125 enlightened masters, with more than 30 of them considered Avadhuthas – full-blown mystics who are direct avatars of the Lord. 
The only aspiration he has for his life is philanthropy. Only that ideal, that mindset, will give a person access to him. His mantra for salvation is clear: Philanthropy alone will flourish and thrive. Philanthropy alone will win. Philanthropy alone will protect one's lineage for generations to come.
He has shown the world a simple way for an ordinary person to attain greatness without penance or Vedic knowledge. The way of charity – appeasing the hunger of the needy – is the finest way of pleasing the Supreme Being. With the guidance of his guru, he has fed and provided for millions of needy people in South India.
In the year 2000, Siddha Rajakumar formed the Maha Siddhargal Trust, the sole aim of which is to invoke the deeply imbedded grace within all of us. It is the belief of the Trust that feeding the needy and other generous acts are instrumental, and act as catalysts in awakening the ideas of charity, compassion, and love within oneself.