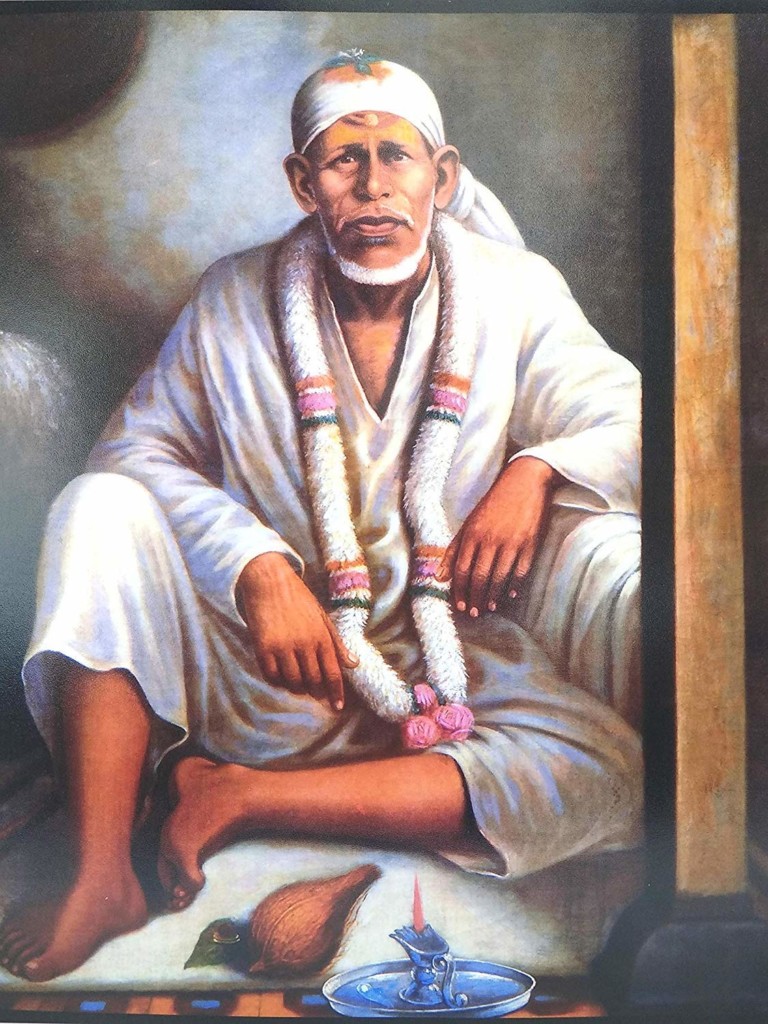 After my guru the Siddha attained Samadhi, I often visited Sadhu Krishnaveni Amma in Pothigai Hill, among other saints in the area. But I could find no peace. I felt like I was going mad. I don't know why I felt the urge to visit them, or what, or who was leading me to them, but I could feel that I was surrounded by some unusual divine energy. 
Sadhu Krishnaveni Amma spoke many languages. One day, she asked me to take her to visit the Shirdi Sai Baba Temple, so I had a friend from Kerala reserve train tickets for us to Pune. I had the route and maps ready for when we arrived; from Pune, we would board a bus to another train station, and from there head to the temple. Easy. But our journey would be far from simple. When we arrived at the station we realized everyone spoke Hindi, and only Hindi.
Much like in western countries, where one can't manage without knowing English, in North India, one can't manage without knowing Hindi. And as if they all had made a resolution to never speak another language, every person we encountered, and every person we asked for directions, could only speak Hindi.  If we asked them something, they didn't understand. Thanks to these miscommunications, we had to get on and off many busses before we found the right one and this was tiresome for the elderly Sadhu Krishnaveni Amma.
Although she was fluent in Hindi, she was not clear on this particular dialect. Once, when she was boarding a bus, she fell down, and I scolded the bus driver. Finally, we boarded the correct bus, reaching the train that would take us to Shirdi. 
By the time we arrived, it was midnight, and we were starving. We got an auto rickshaw to the temple, but since it was so late, the ashram near the temple was packed full. We asked the manager for a place to sleep, but he said no. 
"Do you know who this lady is?" I yelled at him.  "She is a saint. Give us a room to rest!" Finally, he relented. He gave us two mats to sleep on, out in the verandah.  I was content with that. 
But we were still extremely hungry. I thought to myself, What can I do? To think, we had to starve after we had travelled all the way to Baba's Temple. In Siddha's ashram, he would always offer visitors food, or at least a cup of tea, no matter who or what time it was. My dear Baba! I thought. You are starving an elderly lady. Is this what you do for her? I didn't need to come see you. I was just accompanying her. You are treating an elderly lady like this? Are you not compassionate? I couldn't understand it. Instead, I tried to sleep, remembering my guru, the Siddha.
Some memories. 
Once when I was travelling in Coimbatore with my guru, we came across a bridge.
 "We meet here in the evenings, Raja, Shirdi Baba and I," he said, pointing towards it. "I sing, and Shirdi Baba plays music. We both enjoy it very much."
  That means, I made some mistake, I thought to myself. That is why Baba is punishing me. Not long after our conversation, I fell asleep.
And what a wonder I saw in my dreams. There was a figure, wearing a white turban on his head, a white shawl across his shoulders, and the same white-colored dhothi around his hips, with a blissful expression on his face. It was none other than Baba. 
 "Raja! When did you come here?" He asked, longingly. He took me to a room that had been mopped with cow dung. There were only a few food containers, but from them, Baba began removing things. He took a banana leaf, and laid it and a glass of water in front of me, then gestured for me to sit and serve myself rice and gravy.
I looked at him, surprised. I remembered how my Siddha had cared for me with affection like that. Until I finished eating, he stared at me sharply, the same way my Siddha had done.  I ate until I was full, and when I got up from the floor, Baba gave me a green silk robe. As I took it from him, I opened my eyes. I was awake. It was only 2:30 AM.
For a little while, I laid there on the mat, contemplating. Oh! I thought. How could I scold someone so kind and affectionate? I fell asleep, thinking of him. Early in the morning, I told Krishnaveni Amma about my dream. She was so thrilled to hear about it. Soon after, she showered and joined the long queue of people waiting to see Baba's Samadhi shrine. I did not go with her. Instead, I meditated on him beneath a nearby tree. When she returned, we offered food to the monks for as long as we could before we had to leave for Chennai.
Later, after we had gotten back, I read Baba's history. He observed simplicity. He took alms from people and donated it to the needy and hungry. And although he was a great siddha, he never wanted to build big buildings and palaces. Even the clothes he wore were torn. 
Dear beloved and true devotees of Baba, please, under no circumstances, spend millions of dollars to build a temple of marble. Baba, and other saints, too, have never liked it. It's also no use selling his pictures and his idols. Those of you, who truly believe in him, catch him and retain him in your hearts. Follow him, and the great mantra he practiced: satiating the hunger of the needy. 
The sparkle of the lamp lit for Baba is more energetic than Baba's idol itself. To realize Baba, one has to feed the needy with compassion, not build grand temples. These people realize that Baba is still living. I have learned that Baba means charity. Baba alone knows that he is always with me.