Subtitle
Siddha Sri Veera Narayana Perumal
Saints appear here and there during this prevailing Age of Vice, and they do severe penance in order to give warmth and grace to the men of truth and compassion, guiding them to attain sanctity.
In 2005, when I was travelling from Chennai on the road that leads to the City of Thindivanam, I noticed an enlightened person with matted hair standing outside a gas station on the side of the road in the scorching sun. From that day until he attained his Samadhi in 2010, whenever I went to Chennai, I would see this siddha and attend his services.
I realized that the siddha that I saw in Ongoor 35 years ago was him! When I travelled from Chennai, sometimes I would catch sight of him standing near the shore of a pool in the railway station of Thindivanam, glancing sharply at us. And whenever we fed him, he would consume the food that we gave him with the utmost devotion. This siddha constantly moved from place to place within the city of Thindivanam.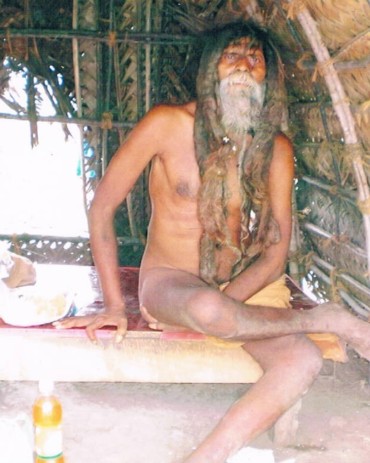 Another time, when I was travelling from Chennai, I saw him standing under a Tamarind tree, in Olakoor near a restaurant. When I went in for my own meal, I gave the owner some money for food for the Siddha, too. Three months later, I found the Siddha under another Tamarind tree near a steel furniture shop.

Again, I gave money to the owner,  Mr. Venkadesan, to buy food for the siddha-as much as he could. He continued to feed him for nearly two years after that. It pleased me to know that Venkadesan was taking care of him. I even bought him a cell phone so I could call him daily to make sure the siddha was doing well. Next it was Bala, a virtuous man in the same town, who took charge of feeding the siddha over the next three years. 
Once, I bid farewell to the siddha before taking a flight to Singapore. While I was there, staying at the home of my beloved devotee Ratnavel, Siddha Veera Narayana Perumal woke me from my sleep. 
"Rush to the farm in the Kolli Hills!" He said. "The planting of the paddy seedlings was not done properly." I did as I was told. On the same day, I had a dream about the siddha being hit by a drunken motorcyclist. And much to my dismay, it came true. He was hit by a motorcycle, and one of his legs was badly hurt. I took him to the hospital for treatment, and after that, with the help of another devotee, Ravi Kumar, I built the Siddha a cottage.
After we got him settled, no one could go near him. He didn't like crowds, and he didn't talk to anyone.  He observed severe penance. The virtuous realized him instantly, and he blessed them. I arranged for a devotee named Elumalai to take care of his meals. He and his wife would prepare food for him three times a day.  But as time went on, people from many different places started visiting the Siddha. This deeply hindered his penance, and he would often chase his visitors away. He even ran Elumalai off. I was so worried about him. Who will take care of him now? I thought.
In my dreams, the Siddha showed me two trees on the shore of a lake, in a place called Nallathur. After that, I started searching for it. I wanted to take him there.
 Then came the day before the full moon in the month of April 2010. My beloved devotee Ratnavel was coming in from Singapore to participate in the sacred rituals and mass feeding during the Full Moon Day celebration in the Nambi Hill. He had just landed at the airport when I received news from the people who were taking care of the Siddha. They had found him on the ground, his head flat against the floor. They realized then that he had given up his body. All his devotees rushed to him when they heard that he had attained Samadhi. I sent Ratnavel to the Siddha's place with all the ingredients for the Samadhi preparation, including sandalwood oil, herbal powder, holy ash, and camphor.
The next day, while I was performing the grand, sacred fire ritual in the Nambi Hill, the siddha's body was buried in the shrine across from the place where he used to meditate. That was the shore of the lake in Nallathur. To this day, a lamp is lit and food is offered in his shrine on a daily basis.
I remember once, after feeding him, I asked him for his name and where he was from. He showed me a piece of paper he had been holding in his hand. It read: Veera Narayana Perumal.
It is a great fortune to tend to the needs of siddhas. The one who does this will receive endless grace and everlasting bliss.