Siddhu Purushini Raja Rajeswari Amma
From time to time, Siddhas and Siddhu Purushinis (Female Siddhas) are incarnated on earth to protect their people. Over the past 35 years, I had the privilege to visit one in particular, Siddhu Purushini Raja Rajeswari Amma. During our time together before she attained Samadhi, I was fortunate enough to receive many of her blessings, as well as witness her miraculous power.
Siddhu Purushini Raja Rajeswari Amma was a truly singular person. She always addressed men as appa – father. Where she slept, at least 50 centipedes would be, crawling in and around that area.  As I remember, she always had a bundle with her, and it was always a surprise what she carried inside. Some days, she would retrieve holy ash from it to anoint her face. Other days she would use Kumkum powder.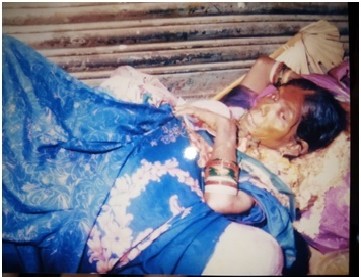 It wasn't unusual for her to suddenly take off in a taxi, a bundle in hand, and travel around the city. Another time, I saw her tie mangoes in a garland around her waist. In just a few days, the mangoes would turn into delicious fruits. Without fail, she always treated her visitors with tea and snacks.   With the slightest spin of her handheld fan, she could send devotees into a trance. On occasion, instead of wearing the traditional blouse under her saree, she would abandon it, using only a great veil to cover her body. When people asked why, she would say that she was an avatar of Goddess Samundeeswari.

When those who were haunted would come to her, she knew just what to do. She would get a soda bottle, and with only the POP! of a bottle opener removing its lid, she would expel the ghost.  When severely sick people would come to her for blessings or to be healed, she would tell them to bring her ten bottles of Amrutanjan, a strong analgesic balm. Then, she would apply the balm all over her body. Instantly, the sick would be cured. Sometimes, her followers didn't even have to be present to receive a remedy. For the devotees too sick to come and see her, Amma would put an attendee in a trance, and bestow on them the cure to heal the one who was absent. Afterwards, the attendee would visit the sick devotee and, channeling what Amma had given them, relieve him or her from their sickness. 
Once, I dreamt of her. Maha Siddha Kalangi Sivasamy played a part in my dream as well, standing behind Raja Rajeswari Amma, kicking at me angrily. Rajeswari Amma, accompanied by two other siddhas, yelled, "Do not hurt my son," and brought his violence towards me to an immediate stop. When I woke up, I went to the city of Kanchi and fell at the Samadhi of Siddha Kalangi Sivasamy, still perplexed as to why he had been so mad at me. Just then, an avatar of Goddess Narayani presented herself to me. She presented herself in the form of Goddess Ranganayagi. 
Rajeswari Amma is always waiting, ready to help her devotees. Her Guru feast is held in Chennai on Thambu Chetti street every April, with 210 Siddha Yagna, 108 Lakshmi Pooja and Navakraha Yagna. During the time of the feast, her devotees distribute free food and robes to the needy, receiving immeasurable grace.